Intro
The West coast of Scotland is well known as one of the most beautiful locations in the United Kingdom and as well as containing some of the country's most spectacular wildernesses and its highest mountains. You will begin on day one with an ascent of Ben Nevis, the UK's highest and most sought after summit, by skirting its imposing north face, before arriving at camp in the shadow of the towering 'Ben'. This will be followed on day two by traversing the Caledonian Canal on bike, following part of a route that cuts straight through the entire country along the banks of a number of lochs including the world famous Loch Ness. Day three will see you taking to the waters of Loch Ness and crossing to its southern bank, immersing you in an environment that has inspired centuries of legends. 
Stats
Trek: 19km Distance / 1461m Ascent
Bike: 42km or 55km Distance / 320m or 548m Ascent
Paddle: 12km Distance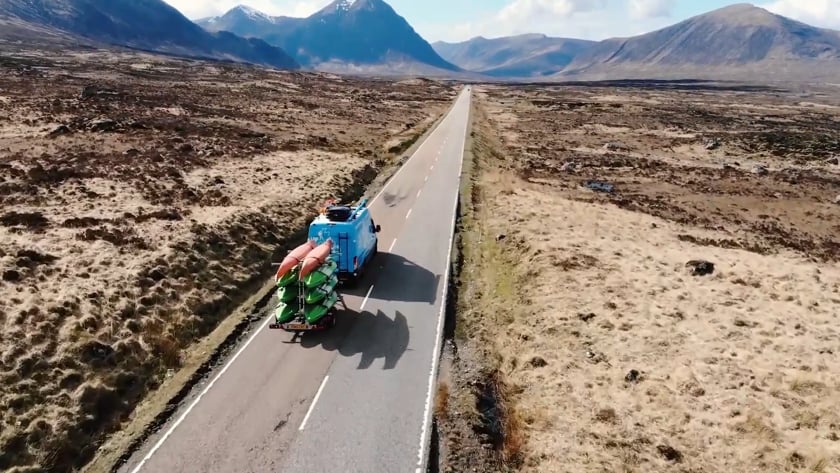 Food
We know how important this is. We will be providing healthy and delicious meals and snacks for the duration of your adventure.
Camping
All of our campsites are official campsites with toilets and showers. When you arrive, your tent should be up and ready for you with your bag/personal belongings waiting for you in there. Our campsites are almost always fairly remote so are unlikely to have access to local shops and restaurants. 
B&B/Hotels
All of our indoor accommodation options are local, independent and dry! Perfect if the idea of camping is a bit much...
Personal Equipment
Up 4 Adventure UK can provide you with all of the technical equipment that you need for your adventure. 
Phone/Powerbank
Phones are a big part of most peoples lives now, we get it. If you would like to bring your phone along to take photos and or stay in touch with civilisation, you are very welcome. We provide you with a power bank so you can keep it charged throughout the adventure.
Support Driver
All of our adventures are accompanied by a support driver. Their job is to meet you at checkpoints with water refills, snacks and lunch as well as setting up the camp in time for your arrival. If absolutely required they can also provide transport assistance, but we would prefer that this is only in the case of emergencies. Our guides understand that you may need some assistance and that is exactly what they are there for!
Scotland 3 Day Adventure (camping)
£415 per person
Fully inclusive 3 day adventure, staying under canvas in our handpicked, independent, local campsites
£415 per person
Scotland 3 Day Adventure (B&B/Hotel)
£525 per person
Fully inclusive 3 day adventure, staying in small, independent bed & breakfast, indoor accommodation
£525 per person
Interested? Hit one of the buttons below to get one step closer to your adventure!