Intro
Famous for its lakes, but also blessed with fantastic mountain ranges and dramatic scenery which has inspired writers for generations. Your Lake District journey starts on the bikes, flowing through quiet roads, cycle paths and riverside trails. We will gain height and magnificent views across Ullswater, before descending down to our first night accommodation. Day 2 is trekking to the summit of Helvellyn – where if the weather allows, you will ascend via one of the UK's premier scrambling routes! Dropping down to the accommodation for open fires, delicious cuisine and refreshments, you will be able to enjoy the beautiful surroundings! Day 3 will be paddling on one of the parks most iconic and beautiful lakes. Once completed, you will be dropped at back at your cars, ready for you to drive home tired but full of memories to keep with forever! 
Stats
Bike: 14km Distance / 335m Ascent or 17km Distance / 800m Ascent (you choose!)
Trek: 11km Distance / 805m Ascent
Paddle: 13km Distance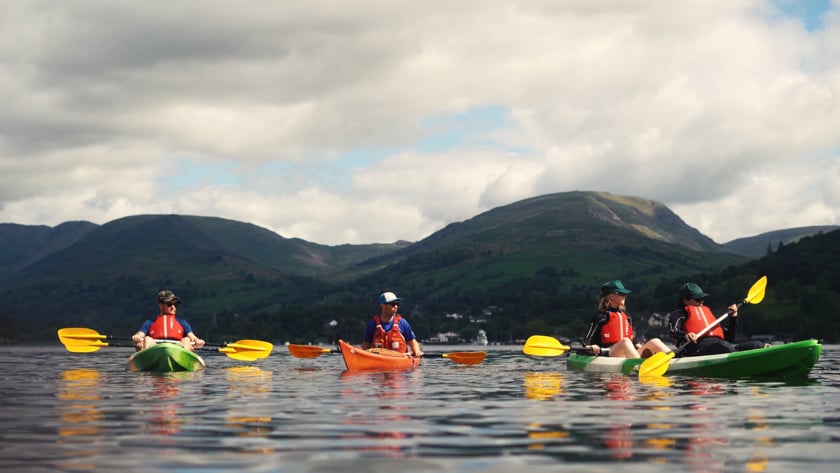 Food
We know how important this is. We will be providing healthy and delicious meals and snacks for the duration of your adventure.
Camping
All of our campsites are official campsites with toilets and showers. When you arrive, your tent should be up and ready for you with your bag/personal belongings waiting for you in there. Our campsites are almost always fairly remote so are unlikely to have access to local shops and restaurants. 
B&B/Hotels
All of our indoor accommodation options are local, welcoming and dry! Perfect if the idea of camping is a bit much...
Personal Equipment
Up 4 Adventure UK can provide you with all of the technical equipment that you need for your adventure. 
Phone/Powerbank
Phones are a big part of most peoples lives now, we get it. If you would like to bring your phone along to take photos and or stay in touch with civilisation, you are very welcome. We provide you with a power bank so you can keep it charged throughout the adventure.
Support Driver
All of our adventures are accompanied by a support driver. Their job is to meet you at checkpoints with water refills, snacks and lunch as well as setting up the camp in time for your arrival. If absolutely required they can also provide transport assistance, but we would prefer that this is only in the case of emergencies. Our guides understand that you may need some assistance and that is exactly what they are there for!
Lake District 3 Day Adventure (camping)
£415 per person
Fully inclusive 3 day adventure, staying under canvas in our handpicked, independent, local campsites
£415 per person
Lake District 3 Day Adventure (B&B/Hotel/Hostel)
£575 per person
Fully inclusive 3 day adventure, staying in small, independent bed & breakfast, hostel or hotel indoor accommodation
£575 per person
Interested? Hit one of the buttons below to get one step closer to your adventure!